How we make Customer First thinking a core part of our business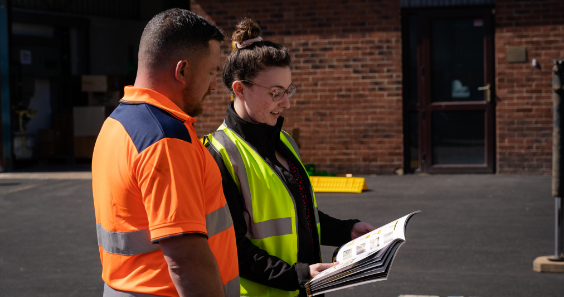 How we make Customer First thinking a core part of our business
Working in the cargo control industry, we understand two fundamental things about our customers. Firstly, their time is precious, any load that can't go out is sitting in the yard, dock or runway losing money. Secondly, load control safety is their highest priority, clients need to know any safety products they use are of the best quality and fully compliant with relevant safety standards, keeping their operators safe and loads damage free.
How does this relate to Customer First thinking? It's simple, if we fully understand and respect our customers' needs and everyday pressures, we can bring the best products to market and offer outstanding client support – human to human. This is why customer service excellence is a core value at CargoStop. Here are some examples of how we've helped customers and what our clients say about us.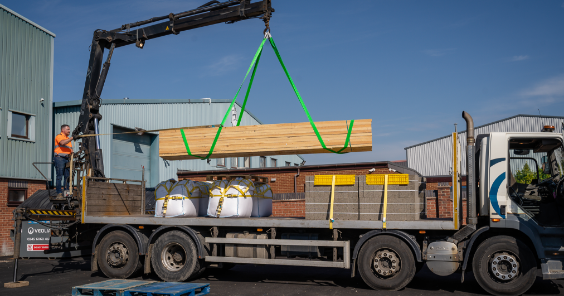 Building trust with new clients
We believe in building trust with any new clients by demonstrating our commitment to their business and operator safety. When Summit Platforms, a national provider of powered access and telescopic handler hire, became a new client, they contacted us at 5pm in the evening with an urgent order they needed to be fulfilled by the next day.
We understand our clients are often time pressed which is why we offer next day delivery on stock items ordered before 3pm every day. However, at 5pm in the evening it would have been impossible to get the products delivered to them in time.
As a gesture of goodwill and commitment to our client relationship, our Business Development Manager, Xander Barber, drove the products to them personally the next morning. The product arrived on site by 8am, along with a warm welcome for our new client from Xander, and they were delighted.
"Having only used Cargo Stop for one previous order, their level of service for our second order, which was an emergency, was extraordinary. One of our drivers informed us his binders had broken. We contacted Xander, at CargoStop, at 4pm, after the next day delivery order time cut off, and explained how desperate we were for binders as the lorry would have to be stood down until they arrived. Xander immediately offered to drive the binders from Colchester to our depot in Purfleet the next morning where he and the binders arrived before 8am, saving us one full day of waiting. Given we're a new customer, and hadn't already spent thousands with CargoStop, the customer service was incredible. Now, whenever our lorries need any equipment, CargoStop will always be our first call."
Ross Van-Rhyn, Transport Co-ordinator London East, Summit Platforms.
This is just one example of how CargoStop regularly go the extra mile for clients, particularly in relation to deliveries. For us, this example demonstrated a clear commitment to our new relationship with Summit Platforms. For the client, they were able to identify CargoStop as a supplier they could trust. Summit Platforms have 15 sites nationally, and as a result of our excellent customer service, we have now been recommended to all other sites as a trusted supplier.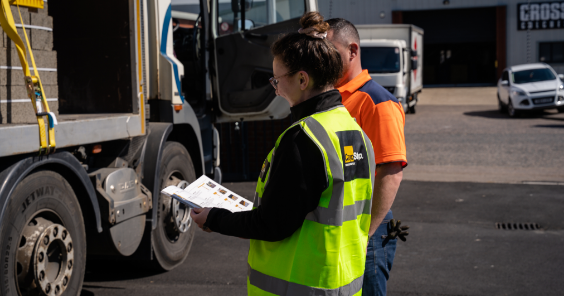 Going the extra mile
Going further when it comes to customer service is a must for us and when Woodland Logistics called us with an urgent order, we were happy to fulfil it. However, they let us know they needed to pick up their product within half an hour. Whilst this timescale would be impossible for many companies, CargoStop have the advantage of well-developed and efficient processes between our ordering and warehouse teams. As a result, we could ensure the product was picked, packed and ready for the customer within 30 minutes.
Not only did we ensure our customer had what they needed when they needed it, but they also got great service from our warehouse team who excel in their customer facing role. The client was happy, and we were delighted to be able to showcase to a large and longterm customer, the clear advantages of working with us
What our customers said
In a bid to focus even further on customer satisfaction, we recently carried out a survey with existing customers which asked them to rate our products and services. We were extremely happy with the results. Firstly, it confirmed what we knew, customers are loyal to us because they appreciate our approach to load safety and our commitment to customer service – 87% of those surveyed had been with CargoStop for 1-10 years with 11% collaborating with us for 10+ years. Our products were also majority rated as "strongly agree" for quality and reliability, something we are proud of.
100% of participants were satisfied with the range of products CargoStop offer.
95.1% of participants were satisfied with CargoStop's response after experiencing an issue.
57.8% of participants described the customer services team as 'Very Responsive.'
9.4 was the average rating when asked, how likely is it that you would recommend CargoStop to a friend or colleague?
The survey results not only show us what we're doing right, but also where we can make improvements to better serve clients. Most importantly, it communicates to our customers that we value their opinions and ideas, and we are actively listening to their feedback.
Customer First thinking
For CargoStop, Customer First thinking is present in every aspect of our business and operations, from product development to warehouse processes. We are proud to serve our clients with excellence in customer service.
"Going the extra mile constantly and not just for one customer, but for all clients and prospects, delivering a first-class service on a daily basis and ensuring clients have got safe loads wherever they are, that's what we're about."
Xander Barber, Business Development Manager, CargoStop
If you'd like to talk to our team about how we could help your business, get in touch here.